The Curtiss P-36 Hawk, also known as the Curtiss Hawk Model 75, was an American-designed and built fighter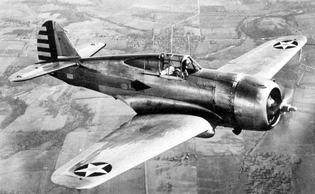 aircraft of the 1930s and 40s. A contemporary of both the Hawker Hurricane and Messerschmitt Bf 109, it was one of the first of a new generation of combat aircraft—a sleek monoplane design making extensive use of metal in its construction and powered by a powerful radial engine. Obsolete at the onset of World War II and best known as the predecessor of the Curtiss P-40 Warhawk, the P-36 saw only limited combat with the United States Army Air Forces. The P-36 was used more extensively by the French Air Force, both during the Battle of France and by the Vichy Fre
nch; and was used against French forces in the Franco-Thai War (October 1940 – 9 May 1941.) It was also used by the British Commonwealth (where it was known as the Mohawk), and by Chinese air units. Several dozen also fought in the Finnish Air Force against the Soviet Air Forces. With around 1,000 aircraft built, the P-36 was a major commercial success for Curtiss.
Ad blocker interference detected!
Wikia is a free-to-use site that makes money from advertising. We have a modified experience for viewers using ad blockers

Wikia is not accessible if you've made further modifications. Remove the custom ad blocker rule(s) and the page will load as expected.