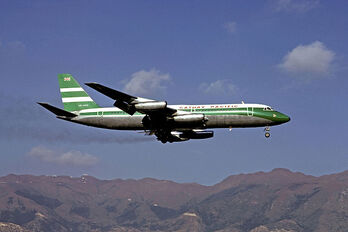 Die Convair 880 ( CV-880, erster Flug 27.01. 1959 ) Krieg der ersten Jetliner . Es wurde entworfen, um mit dem britischen De Havilland Comet und Avro Kanada C102 Jetliner zu konkurrieren. Es konfrontiert Wettbewerb gegen die Boeing 707 und Douglas DC-8 , sowie die sowjetische Tupolev Tu-104 . Eine Aerial Tanken Tanker Variante wurde entwickelt, die Convair UC-880 , von der US Navy verwendet. Eine weitere Entwicklung der 880 war die CV-990 Coronado .
65 Exemplare wurden von der CV-880 zwischen 1959 und 1962 hergestellt, die wichtigsten Abnehmer waren TWA, Delta Airlines, Cathay Pacific (Bild) und Japan Airlines.

Ad blocker interference detected!
Wikia is a free-to-use site that makes money from advertising. We have a modified experience for viewers using ad blockers

Wikia is not accessible if you've made further modifications. Remove the custom ad blocker rule(s) and the page will load as expected.