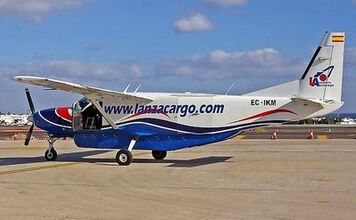 The Cessna Super Cargomaster EX is a single engine short range freighter manufactured by Cessna.
Description
Edit
The Super Cargomaster is an all cargo version of the Cessna 208B Grand Caravan, fitted with a 82.7 ch ft (2.37 cu m) external cargo pod attached to the lower fuselage.[1]
Like the Crand Caravan, the Super Cargomaster is powered by a single 675 shp (503 kW) PT6A-114A Turboprop[1] with a fuel supply of 1,270 litres.[2]
References
Edit
↑ 1.0 1.1 World Aircraft & Systems Directory - First Edition. Brassey's (UK) Ltd. 1996. ISBN 1 85753 198 1 Page 439
↑

WA&SD 1 Page 438
Ad blocker interference detected!
Wikia is a free-to-use site that makes money from advertising. We have a modified experience for viewers using ad blockers

Wikia is not accessible if you've made further modifications. Remove the custom ad blocker rule(s) and the page will load as expected.