The Canadair Sabre is the Canadian counterpart to the
F-86
. It was considered one of the finest dogfighters of it's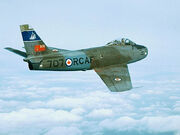 day, and it was used by many countries. 1.815 were built. It was introduced in 1950, and it retired in 1980.
Length: 37 FT 6 In
Wing Span: 37FT 1 1/2 In
Maximum Speed: 710 MPH
Rate of Climb: 11,800 FT/Min
Service Ceiling 54,000 FT
Ad blocker interference detected!
Wikia is a free-to-use site that makes money from advertising. We have a modified experience for viewers using ad blockers

Wikia is not accessible if you've made further modifications. Remove the custom ad blocker rule(s) and the page will load as expected.