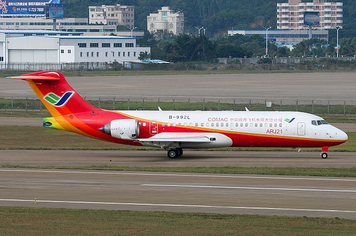 The COMAC ARJ21 (ARJ) is a Chinese regional jet from Commercial Aircraft Corporation of China (COMAC). It is designed for domestic use and is not commercially competitive on the international market. The program was designed to develop and upgrade the commercial aircraft sector of China, along with the narrowbody counterpart COMAC C919 jetliner.
Ad blocker interference detected!
Wikia is a free-to-use site that makes money from advertising. We have a modified experience for viewers using ad blockers

Wikia is not accessible if you've made further modifications. Remove the custom ad blocker rule(s) and the page will load as expected.