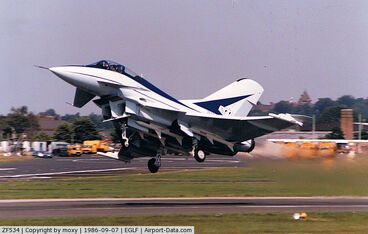 The British Aerospace EAP was a technology demonstrator for a private venture during the 1980s. It was later developed into the Eurofighter Typhoon. Its first flight was in August 1986, and it retired on May 1, 1991. Only one was built.
Length: 48 ft 2.75 in
Wing Span: 38.7 ft
Wing Area: 560 ft
Service Ceiling: 60,000 ft
Ad blocker interference detected!
Wikia is a free-to-use site that makes money from advertising. We have a modified experience for viewers using ad blockers

Wikia is not accessible if you've made further modifications. Remove the custom ad blocker rule(s) and the page will load as expected.