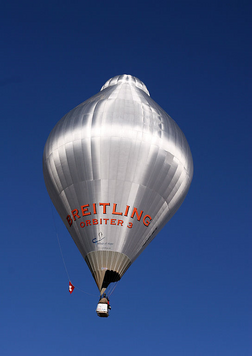 The
Breitling Orbiter 3
was the first
balloon
to round the world. It was sponsored by the Breitling watch company, and was the third balloon built for the challenge, succeeding the preceding
Breitling Orbiter 1
and
Breitling Orbiter 2
of the
Breitling Orbiter
series. It was designed and built by Cameron Balloons.
It was a de Rozier hot-air balloon, combining a helium liftgas balloon and an outer hot air balloon.
The record flight was conducted in 1999 by Brian Jones and Bertrand Piccard, of the Piccard family fame.
The gondola of the balloon currently resides at the Air and Space Museum of the Smithsonian Insitution in Washington, D.C., USA.
Ad blocker interference detected!
Wikia is a free-to-use site that makes money from advertising. We have a modified experience for viewers using ad blockers

Wikia is not accessible if you've made further modifications. Remove the custom ad blocker rule(s) and the page will load as expected.