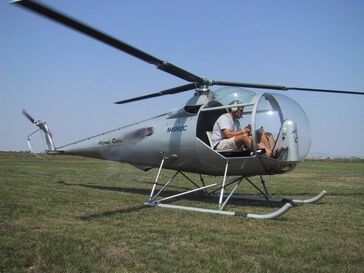 The
Brantly B-2
is an American light helicopter manufactured by Brantly International.
The B-2 was designed in the early 1950s by Newby Brantly as a simple two-seat light helicopter, simpler than his earlier B-1. The first example flew on 21 February 1953, and the aircraft received certification in 1959, with production beginning shortly after. A five-seat version with a more powerful engine was developed in the early 1960s and called the 305. Production initially ended in the early 1970s, but was resumed in 1976 after Brantly was acquired by Michael Hynes and renamed Brantly-Hynes. B-2s continue to be built today, with over 400 examples already in service.
The United States Army evaluated the B-2 in 1958 as the YHO-3, but found it to be unsuitable for their needs and placed no orders.
Specifications
Edit
Powerplant: One Avco Lycoming IVO-360-A1A piston engine
Top speed: 100 mph
Range: 250 miles
Ceiling: 10,800 ft
Crew: 1
Empty weight: 1,020 lbs
Length: 21 ft 9 in
Height: 6 ft 9 in
Rotor diameter: 23 ft 9 in
Ad blocker interference detected!
Wikia is a free-to-use site that makes money from advertising. We have a modified experience for viewers using ad blockers

Wikia is not accessible if you've made further modifications. Remove the custom ad blocker rule(s) and the page will load as expected.