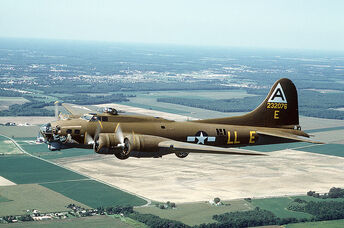 The
Boeing B-17 Flying Fortress
was a heavy bomber of the US Air Force used in World War II. It was designed and manufactured by
Boeing Airplane Company
and it was known for it´s ability to survive the heaviest damage in combat, the B-17 outperformed it two competitors by Douglas and Martin. Because of machine guns at the nose, the top and the underside of the aircraft it is able to defend itself even against enemy fighters, what gaves it an outstanding surviveability. No other bomber at this time dropped as many bombs over Germany than the B-17 Flying Fortress.
Ad blocker interference detected!
Wikia is a free-to-use site that makes money from advertising. We have a modified experience for viewers using ad blockers

Wikia is not accessible if you've made further modifications. Remove the custom ad blocker rule(s) and the page will load as expected.