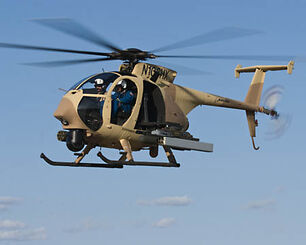 Boeing AH-6
is the designation for a series of light-weight reconnaissance- and attack helicopters. It was based by Boeing rotorcraft system on the
OH-6 Cayuse
.
The first model of the AH-6 series was the ULB (Unmanned Little Bird), which was an unmanned technology demonstrator.
MH-6X MELB
Edit
The MH-6M Mission Enhanced Little Bird (MELB) was offered as an alternative to the cancelled RAH-66 to the US Army, to replace the OH-58D. However the US Army decided to chose the Bell ARH-70. Thereupon, Boeing developed the A/HM-6X, which was an upgraded derivative, that can be used manned and unmanned.
After development of the ARH-7 was cancelled, Boeing offered the AH-6S to the US Army. The new helicopter has more advanced avionics, better survivability and limited SAR-capabilities. Whether the US Army is going to purchase it, is still unclear.
Export variant of the AH-6S.
Ad blocker interference detected!
Wikia is a free-to-use site that makes money from advertising. We have a modified experience for viewers using ad blockers

Wikia is not accessible if you've made further modifications. Remove the custom ad blocker rule(s) and the page will load as expected.