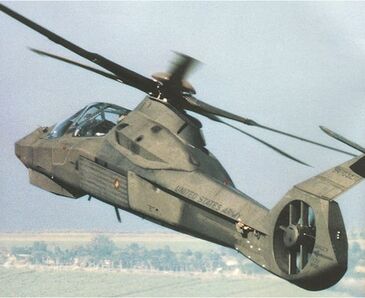 The RAH-66 Comanche was an attack/scout helicopter, with stealth abilities. It was planned to replace old helicopters that are in use by the US Army. The Light Helicopter Experimental program was cancelled in 2004, before mass production could be started.
The reasons for that were the high cost, resulting from the stealth, so it was cancelled because UAVs were much cheaper and better for reconnaissance missions as well as the fact that the Comanche was called a Cold War "relict". It's landing gear and missile pods were retractable. Even the rotor hub is hidden.
In Popular Culture
Edit
Videogame developer, NovaLogic made four PC games under the name of Comanche starting in 1992.
Comanches also appeared in 2003 movie Hulk.
Ad blocker interference detected!
Wikia is a free-to-use site that makes money from advertising. We have a modified experience for viewers using ad blockers

Wikia is not accessible if you've made further modifications. Remove the custom ad blocker rule(s) and the page will load as expected.