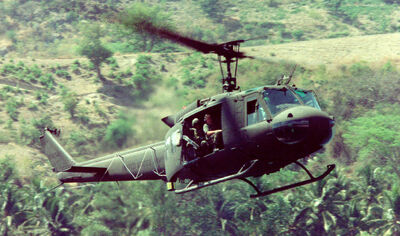 The Bell UH-1 Iroquois, commonly known as the Huey, is a military utility helicopter developed by Bell Helicopter in the 1950s.
The Huey was originally developed to meet a US Army requirement for a medevac helicopter, and was known as Model 204, of which three examples were ordered by the US Army as the XH-40. The first of these (55-4459) made it's initial flight, with the 825 shp (615 Kw) XT53-L-1 turboshaft engine derated to 700 shp (522 Kw), on October 22nd, 1956, two days after it was acquired. The XH-40s were followed by six YH-40s with a 1 ft (30,5 cn) fuselage extension. The type was ordered into production as the HU-1 Iroquois, quickly becoming known as the Huey. The initial HU-1A had a T53-L-1 engine, a crew of two and capacity for six passangers or two stretchers,[1] and was introduced into service with the United States Army in 1959.
The production version is powered by a Lycoming T53-L-11 turboshaft engine, which gives it a top speed of 135 mph. It needs a crew of 1-4, and can hold an additional 14 passengers or 3,880 lbs of cargo.
[1]
This was followed by the UH-1B (Originally HU-1B) which, after it's first flight on 27 April 1960, demonstrated the ability to carry two pilots and seven soldiers over 244 miles

(393 km) at a speed of 126 mph (203 km/h)
[2]
Major military variants include the UH-1N Twin Huey and the UH-1Y Venom. There are also civilian several variants, including the 204, 205, and 212. 
Over 16,000 have been built, many of which are still in use with countries all over the world. It is most well-known for its role in the Vietnam War.
References
Edit
↑ 1.0 1.1

World Aircraft Information Files Aviation Partwork. Midsummer Books Ltd. File 27 Sheet 1:Bell UH-1 Huey - Introduction

↑

WAIF File 27 Sheet 2:Bell UH-1 Huey - Huey Development
Ad blocker interference detected!
Wikia is a free-to-use site that makes money from advertising. We have a modified experience for viewers using ad blockers

Wikia is not accessible if you've made further modifications. Remove the custom ad blocker rule(s) and the page will load as expected.