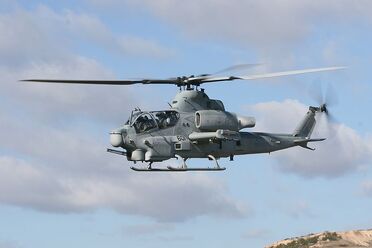 The Bell AH-1Z Viper is a twin engine attack helicopter used by the United States Marine Corps. It is also called "Zulu Cobra" and it should not be confused with the AH-1W SuperCobra, as the Viper is an upgraded version of it. The armament and the technology used on it is similar to that used on the US Army´s AH-64 Apache. Currently 58 units are planned to be built and 131 AH-1W SuperCobra are going to be upgraded into the AH-1Z Viper. The new Viper has a four-blade, bearingless, composite main rotor system, updated transmission, the new AAQ-30 Hawkeye target sighting system with FLIR (forward looking infrared), a helmet-mounted display system, a new laser target designator with a more enhanced night vision device, a millimeter-wave radar and AGM-114 Hellfire missiles, cooled engines and many systems from the Bell UH-1Y Venom. The attack helicopter entered service with the United States Marine Corps in February 2011.
Ad blocker interference detected!
Wikia is a free-to-use site that makes money from advertising. We have a modified experience for viewers using ad blockers

Wikia is not accessible if you've made further modifications. Remove the custom ad blocker rule(s) and the page will load as expected.