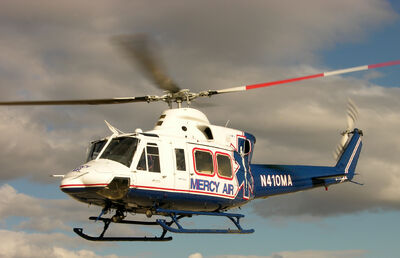 The Bell 412 is a twin engine civil utility helicopter developed from the Bell 212.
Development of the 412 began with the conversion of two 212s in the latter half of the 1970s. The main rotor was given four blades instead of two and the diameter was reduced. The first prototype flew in August 1979, with production starting the same year and the aircraft entering service in 1981. Several improved versions have been made since then, the most recent of which (the 412EP) has a dual digital automatic flight control system. Over 850 have been built so far, and production is ongoing. The 412 was developed into the Canadian CH-146 Griffon military transport in the early 1990s. 
Specifications
Edit
Powerplant: Two Pratt & Whitney Canada PT6T-3BE Twin-Pac turboshaft engines
Top speed: 161 mph
Range: 463 miles
Ceiling: 20,000 ft
Crew: 1-2
Capacity: 13 passengers, 4,500 lbs of cargo
Empty weight: 6,789 lbs
Length: 56 ft 1 in
Height: 15 ft
Rotor diameter: 46 ft
Ad blocker interference detected!
Wikia is a free-to-use site that makes money from advertising. We have a modified experience for viewers using ad blockers

Wikia is not accessible if you've made further modifications. Remove the custom ad blocker rule(s) and the page will load as expected.