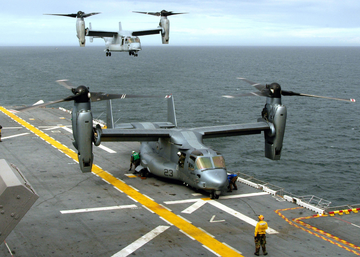 The
Bell-Boeing V-22 Osprey
is an American tiltrotor VTOL aircraft with STOL capability. It is the first tiltrotor aircraft to be produced in the world, classified as a vertical lift aircraft by the FAA.
The tiltrotor design allows the V-22 Osprey to take off and land like a helicopter. Once airborne, the Osprey's rotors tilt to turn the aircraft into a turboprop airplane for higher speed and higher altitude flights. This transformability, in effect, gives the Osprey much higher top speed than a helicopter as well as a much longer range.
The Osprey is designed for multiple types of missions, including amphibious assault, support, special ops, transport, search and rescue, and medevac. It is capable of transporting 24 troops or 20,000 pounds (internal) or 15,000 pounds (external via dual hook) of cargo.
Due to the Osprey's ability to minimize its own footprint by folding its rotors and wings for storage, it can be stored aboard a naval assault ship or aircraft carrier more easily than some conventional aircraft[1].
The V-22 Osprey is also capable of carrying a single M1161 Growler, an Internally Transportable-Light Strike Vehicle (ITV-LSV) designed specifically to be transported by the Osprey.
Specifications
Edit
Propulsion: 2 x Rolls-Royce AE1107C engines
Length: 17.48m / 19.2m
Width: 25.78m / 5.61m
Height: 6.73m / 5.46m
Rotor Diameter: 11.6m
Max Speed: 275 knots (443km/h)
Capacity: 24 troops, 15,000 - 20,000 lbs cargo, or 1 x Growler ITV-LSV
Armament: 1 x removable M240 or M2 Browing machine gun
References
Edit
Ad blocker interference detected!
Wikia is a free-to-use site that makes money from advertising. We have a modified experience for viewers using ad blockers

Wikia is not accessible if you've made further modifications. Remove the custom ad blocker rule(s) and the page will load as expected.