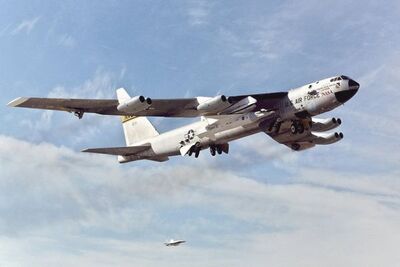 Balls 8 (tail number 52-0008) is a heavily modified RB-52B Stratofortress that was used by NASA to launch experimental aircraft. It was originally built at the Boeing plant in Seattle and first flew on June 11th, 1955. It was soom acquired by NASA for participation in the X-15 program. The aircraft was modified to be able to carry various research and test vehicles, re-designated NB-52B, and entered service on June 8th. 1959. Balls 8 was used for a number of other programs aside from thr X-15, including several Lifting Bodies, the Rockwell HiMAT, and the X-43. The aircraft was formally retired on December 17th, 2004, and is now displayed at Edwards Air Force Base in California.
Ad blocker interference detected!
Wikia is a free-to-use site that makes money from advertising. We have a modified experience for viewers using ad blockers

Wikia is not accessible if you've made further modifications. Remove the custom ad blocker rule(s) and the page will load as expected.