The
BAE systems Taranis
is an Unmanned Combat Air Vehicle with Stealth abilties. It is part of the
Strategic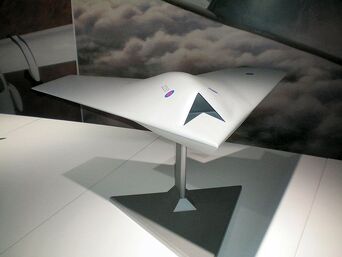 Unmanned Air Vehicle ( Experimental ) ( SUAV(E))
program, to produce an autonomous UCAV with Stealth abilities.
Development
Edit
Development for the Taranis is being lead by BAE systems, also included are General Electric, Rolls-Royce, QinetiQ and the Britain Ministry of Defense. BAE systems is working on the stealth, the flight controls and the flight tests. QinetiQ is developing systems for the autonomous flight and GE Aviation systems the avionics. The engines are Turbomeca-Adour-MK951 turbofans, which are built by Rolls-Royce.
BAE systems Australia is also included, but it develops only 5% of the UCAV. The Taranis-demonstrator will have a take-off weight of 8000 kilograms and the size of a BAE Hawk. First parts were built in September 2007 and putting them together began in 2008. On 12th July 2010, the Taranis was shown publicly. The First Flight should have been in 2011, but it was later planned to take part in 2012, it ended up taking its first flight in 2014.
Ad blocker interference detected!
Wikia is a free-to-use site that makes money from advertising. We have a modified experience for viewers using ad blockers

Wikia is not accessible if you've made further modifications. Remove the custom ad blocker rule(s) and the page will load as expected.