Amelia Mary Earhart was an American aviation pioneer and author. Earhart was the first female aviator to fly solo across the Atlantic Ocean. She received the U.S. Distinguished Flying Cross for this record.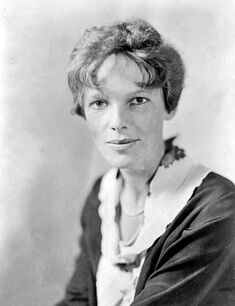 Born
July 24, 1897

Atchison, Kansas, U.S.

Disappeared
July 2, 1937 (aged 39)

Pacific Ocean, en route to Howland Island

Status
Declared dead in absentia

January 5, 1939 (aged 41)

Nationality
American
Known for
Many early aviation records, including first woman to fly solo across the Atlantic Ocean.

Spouse(s)

George P. Putnam
Ad blocker interference detected!
Wikia is a free-to-use site that makes money from advertising. We have a modified experience for viewers using ad blockers

Wikia is not accessible if you've made further modifications. Remove the custom ad blocker rule(s) and the page will load as expected.