The
Airco D.H.2
was a biplane fighter aircraft by the British manufacturer Airco and the second design by Geoffrey de Havilland for this company. In terms of design the D.H.2 was nearly identical to its predecessor Airco D.H.1. The main difference was that the D.H.2 was designed to be a single seat fighter, as the D.H.1 was designed to be a double seat aircraft, thus its an overall smaller aircraft, but with the same wings as the predecessor. The fuselage was made of an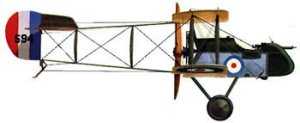 uncovered wood construction.
Because of its smaller size in combination with a modified design, the aircraft is much more aerodynamic than the D.H.1 and therefore more manoeuvrable. Furthermore the D.H.2 was, in comparison to the D.H.1, equipped with a more powerful engine, which was a Gnôme Monosoupape rotary engine, with a power of 100 hp (75 kW).
The first flight took place on 1st July 1915.
At the beginning of the year 1916, the first of them were delivered to the Air Force. The pilots criticized that the DH-2 is difficult to fly, the reasons were the sensitive controls of the aircraft, but which made it, on the other hand an excellent dogfighter, that was able to compete with the Fokker-Eindecker in the air. However only experienced pilots were able to fly the DH-2.
Ad blocker interference detected!
Wikia is a free-to-use site that makes money from advertising. We have a modified experience for viewers using ad blockers

Wikia is not accessible if you've made further modifications. Remove the custom ad blocker rule(s) and the page will load as expected.