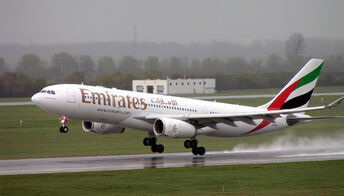 The
Airbus A330
is a large-capacity, wide-body, twin-engine, medium-to-long-range commercial passenger
airliner
. It was developed at the same time as the four-engined
Airbus A340
.
Design and development
Edit
Airbus intended the A330 to compete directly in the ETOPS (Extended-range Twin-engine Operation Performance Standards) market, specifically with the Boeing 767. The A330 was launched in 1987; airlines purchased it to replace the McDonnell Douglas DC-10. The A330 is 38% more fuel efficient than the DC-10.[1]
The A330's fuselage and wings are virtually identical to those of the smaller A340 variants, although it has different engines. The A330 basic fuselage design is inherited from the Airbus A300, and the nose/cockpit section and the fly-by-wire system and flightdeck are inherited from the A320. Both the A330 and A340 are assembled on the same final assembly line at Toulouse-Blagnac, France.
By the end of July 2008, a total of 1,006 A330s[2] had been ordered and 555 delivered. The 1,000 milestone was passed with orders from the 2008 Farnborough Air Show.
There are two main variants of the A330. The A330-300 was launched in 1987 with introduction into service in 1993. The A330-200 was launched in 1995, introduced in 1998 with passenger, freighter and tanker (Airbus A330 MRTT) variants available.
The A330-200 was developed to compete with the Boeing 767-300ER. The A330-200 is similar to the A340-200 or a shortened version of the A330-300. With poor sales of the A340-200 (of which only 28 were built), Airbus decided to use the fuselage of the A340-200 with the wings and engines of the A330-300. This significantly improved the economics of the plane and made the model more popular than the four-engined variant.
Its vertical fin is taller than that of the A330-300 to restore its effectiveness due to the shorter moment arm of the shorter fuselage. It has additional fuel capacity and, like the A330-300, has a Maximum Take-Off Weight (MTOW) of 233 tonnes. Typical range with 253 passengers in a three-class configuration is 12,500 km (6,750 nautical miles).
Power is provided by two General Electric CF6-80E, Pratt & Whitney PW4000 or Rolls-Royce Trent 700 engines. All engines are ETOPS-180 min rated. First customer deliveries, to ILFC/Canada 3000, were in April 1998.
The direct Boeing equivalent is currently the 767-300ER and in the future will be the 787-8. The A330-200 has sold strongly since its launchTemplate:Fact.
A330-200F
Edit
Due to flagging A300-600F and A310F sales, Airbus first began marketing a freighter derivative of the A330-200 around 2000-2001, although it was not launched at this time.[3] The A330-200F re-emerged at the 2006 Farnborough Airshow and received its industrial go-ahead in January 2007. Entry into service is planned for the second half of 2009.
The A330-200F is a mid-size, long-haul all-cargo aircraft capable of carrying 64 tonnes over 4,000 NM / 7,400 km, or 69 tonnes up to 3,200 NM / 5,930 km. It introduces a new versatile main-deck cargo loading system that will be able to accommodate both pallets and containers. Several different arrangements will be possible on the main deck, taking up to 23 Side-by-Side (SBS) pallets, aimed at the high volume, high value commodities or Single Row (SR) loading of 16 pallets (96"x 96"x125" SR pallets) and/or nine AMA containers aimed at the general cargo higher density markets.
To overcome the standard A330's nose-down body angle on the ground, the A330F will make use of a revised nose landing gear layout. The same leg will be used, however it will be attached lower in the fuselage, requiring a distinctive blister fairing on the nose to accommodate the retracted nose-gear.
Power is provided by two Pratt & Whitney PW4000 or Rolls-Royce Trent 700 engines.
Airbus has 66 firm orders from seven customers: Aircastle 15, Avion Aircraft Trading 8, Etihad Airways 3, Flyington Freighters 12, Guggenheim Aviation Partners 6, Intrepid Aviation Group 20 and MNG Airlines 2. Additionally ACT Airlines has signed an MOU for 2. [4] Deliveries will begin in late 2009. [5]
Other wide-body freighters include the B767-300F, DC-10F, MD-11F,B777F.
Airbus plans to assemble the A330-200F in the USA, along with the proposed KC-45A, at a new assembly line at Brookley Field in Mobile, Alabama.
A330-200HGW
Edit
In an announcement on September 9th, 2008, Airbus have released plans for a higher gross weight version of the Airbus A330-200 variant to more effectively compete with the Boeing 787.[6]
The A330-300, which entered service in Template:Avyear, was developed as replacement for the A300. It is based on a stretched A300-600 fuselage but with new wings, stabilisers and fly-by-wire systems.
The A330-300 carries 295 passengers in a three-class cabin layout (335 in 2 class and 440 in single class layout) over a range of 10,500 km (5,650 nautical miles). It has a large cargo capacity, comparable to early Boeing 747s. Some airlines run overnight cargo-only flights after daytime passenger servicesTemplate:Fact.
It is powered by two General Electric CF6-80E, Pratt & Whitney PW4000 or Rolls-Royce Trent 700 engines, all of which are ETOPS-180 min rated. French domestic airline Air Inter was the launch customer for the aircraft. US Airways was the launch customer in the United States with nine A330-300s.
The direct Boeing equivalents are the Boeing 777-200 and the Boeing 767-400ER.
Tanker derivatives
Edit
The Multi-Role Transport and Tanker version (MRTT) of the A330-200 provides aerial refueling and strategic transport. To date it has been selected by Australia, Saudi Arabia, the UAE, and the UK.
On February 29, 2008 the United States Air Force announced that an American assembled variant of the A330 MRTT, now designated KC-45A by the USAF, had been selected to replace the Boeing KC-135 Stratotanker.[7]. The Air Force's fleet of KC-135 tankers has been in service since 1957, the last aircraft having been delivered in 1965.[8] However, due to mistakes in the tanker selection process, outgoing Air Force head Michael Wynne told media that he expected the selection process to be repeated.[9]Finally, it lost to the KC-46A designed on the Boeing 767.
Operators
Edit
A330 deliveries
Edit
By the end of August 2008 a total of 1,003 aircraft of the A330 have been ordered (551 A330-200, 74 A330-200F and 378 A330-300) and 562 delivered (316 A330-200 and 246 A330-300).[10]
| | | | | | | | | | | | | | | | |
| --- | --- | --- | --- | --- | --- | --- | --- | --- | --- | --- | --- | --- | --- | --- | --- |
| 2008 | 2007 | 2006 | 2005 | 2004 | 2003 | 2002 | 2001 | 2000 | 1999 | 1998 | 1997 | 1996 | 1995 | 1994 | 1993 |
| 47 | 68 | 62 | 56 | 47 | 31 | 42 | 35 | 43 | 44 | 23 | 14 | 10 | 30 | 9 | 1 |
Incidents
Edit
(As of July 2009)
Hull-loss Accidents: At least 3 with 235 fatalities

On 30 June 1994, an A330 owned by Airbus on a test flight simulating an engine failure on takeoff crashed shortly after take-off from Toulouse, killing all seven on board. (See A330 test flight crash.) [1]
On 15 March 2000, a 6-year-old Malaysia Airlines A330-300 aircraft was severely damaged by corrosive liquids that were being transported in the cargo hold on a passenger flight from Beijing to Kuala Lumpur. The corrosive liquid oxalyl chloride was mistakenly declared as non-toxic solid hydroxyquinoline. 18 canisters of the substance were transported via Kuala Lumpur intended to transit to Chennai. Five airport workers fell ill as they were unloading baggage from the aircraft at Kuala Lumpur after some of the canisters had leaked and chemicals spilled into the aircraft's cargo hold, resulting in extensive corrosion damage to the fuselage, wing box structure and landing gear. The aircraft was subsequently declared written-off. [2] On June 12 2007, a court in Beijing ordered China National Chemical Construction Corp (the owner of the cargo) to pay US$65 million to Malaysia Airlines for the loss. [3]
On 1 June 2009, an Airbus A330-200 operating Air France Flight 447 entered a high altitude stall and crashed into the Atlantic Ocean, killing all 228 on board. Investigators cited clogged pitot tubes, autopilot disconnection, and incorrect crew response as root causes for the crash.
Other occurrences: 3 with a total of 0 fatalities

On 24 July 2001, 2 SriLankan Airlines A330-243s were destroyed on the ground by Tamil Tiger terrorists at Colombo's Bandaranaike International Airport, Sri Lanka, along with an Airbus A320-200, an Airbus A340-300 and a squadron of military aircraft. Another two planes, an A320 and an A340 were also damaged but have since been repaired.[11]
On 24 August 2001, Air Transat Flight 236, an A330-243, performed the world's longest recorded glide with a jet airliner after suffering fuel exhaustion over the Atlantic Ocean. The plane flew powerless for half an hour and covered 65 nautical miles (120 km) to an emergency landing in the Azores (Portugal). No one was hurt, but the aircraft suffered some structural damage and blown tires.
On 18 July 2003, B-HYA, a Dragonair A330-342 encountered severe turbulence associated with Tropical Depression Koni over the South China Sea, during the flight KA060 from Kota Kinabalu to Hong Kong. 12 crew members and 3 passengers were injured, of which 2 crew members sustained serious injuries, but there were no fatalities. The aircraft landed safely at Hong Kong International Airport. Hong Kong Civil Aviation Department B-HYA Accident Investigation report
Specifications
Edit
Aircraft dimensions
A330-200
A330-300
A330-200F
Overall length
58.8 m (192 ft 11 in)
63.6 m (208 ft 8 in)
58.8 m (192 ft 11 in)
Height (to top of horizontal tail)
17.40 m (57 ft 1 in)
16.85 m (55 ft 3 in)
16.9 m (55 ft 5 in)
Fuselage diameter
5.64 m (18 ft 6 in)
Maximum cabin width
5.28 m (17 ft 4 in)
Cabin length
45.0 m (147 ft 8 in)
50.35 m (165 ft 2 in)
40.8 m (133 ft 10 in)
Wingspan (geometric)
60.3 m (197 ft 10 in)
Wing area (reference)
361.6 m² (1,186 sq ft)
Wing sweep (25% chord)
30 degrees
Wheelbase
22.2 m (72 ft 10 in)
25.6 m (84 ft)
22.2 m (72 ft 10 in)
Wheel track
10.69 m (35 ft 1 in)
Basic operating data
Engines
two CF6-80E1 or PW4000 or RR Trent 772B
PW4000 or Trent 700
Engine thrust range
303-320 kN
Typical passenger seating
253 (3-class)
293 (2-class)
295 (3-class)
335 (2-class)
-
Range (w/max. passengers)
6,749 NM
(12,500 km)
5,669 NM
(10,500 km)
4,000 NM
(7,400 km)
Cruising Speed
Mach 0.82 (541 mph, 470 knots, 871 km/h at 35,000 ft cruise altitude)
Maximum Cruise Speed
Mach 0.86 (568 mph, 493 knots, 913 km/h at 35,000 ft cruise altitude)
Takeoff run at MTOW and 35C
3500 metres/11480ft
3500 metres (11480)
- (Fact from FCOM, Flight Crew Operating Manual)
Bulk hold volume (Standard/option)
19.7 / 13.76 m³
475 m³
Design weights
Maximum ramp weight
230.9 (233.9 ) t
Maximum takeoff weight
230 (233) t
Maximum landing weight
180 (182) t
185 (187) t
182 (187) t
Maximum zero fuel weight
168 (170) t
173 (175) t
173 (178) t
Maximum fuel capacity
139,100 l
97,170 l
139,100 l
Typical operating weight empty
124 t
126 (128) t
109 t
Typical volumetric payload
36.4 t
45.9 t
69 t
|similar aircraft=
|lists=
|see also=
}}
External links
Edit
Cite error: <ref> tags exist, but no <references/> tag was found
Ad blocker interference detected!
Wikia is a free-to-use site that makes money from advertising. We have a modified experience for viewers using ad blockers

Wikia is not accessible if you've made further modifications. Remove the custom ad blocker rule(s) and the page will load as expected.