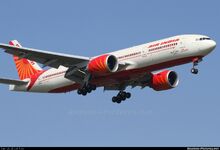 Air India is the flag carrier airline of India (IATA:AI, ICAO:AIC). it used to be known as Tata Airlines in 1926. Air India is a Star Alliance member, and it became the 27th in 2014.
Fleet:
Airbus A320
Airbus A320neo
Airbus A321
Airbus A350-900 (TBA)
ATR 42 (Alliance Air)
ATR 72 (Alliance Air)
Boeing 737-800 (Air India Express)
Boeing 747-400
Boeing 777-200LR
Boeing 777-300ER
Boeing 777-9X (TBA)
Boeing 787-8
Boeing 787-9 (TBA)
Ad blocker interference detected!
Wikia is a free-to-use site that makes money from advertising. We have a modified experience for viewers using ad blockers

Wikia is not accessible if you've made further modifications. Remove the custom ad blocker rule(s) and the page will load as expected.