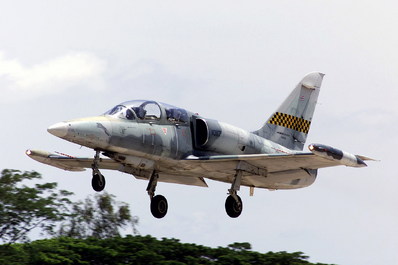 The Aero L-39 Albatros is a single engine Czechoslovakian trainer that doubles as a light attack aircraft.
The L-39 was developed in the 1960s as a successor to the L-29 Delphín and first flew on 4 November 1969. After going through a number of tweaks and prototypes, production began in 1972. While used extensively by the Czech Air Force, the Albatros was also very successful in the export market, particularly with the Soviet Union. Over 3,000 were built before production ended in 1999, the majority of which are still in use. As examples were phased out of military service, the L-39 also became popular as a civilian aircraft due to its relative agility and inexpensiveness, and continues to see use as an aerobatic aircraft as well as a warbird. The Albatros was developed into the L-59 Super Albatros and L-159 Alca.
L-39C: Baseline trainer
L-39ZO: Weapons trainer
L-39V: Target towing aircraft
L-39ZA: L-39ZO with gun pod capability
L-39MS: L-39C upgraded with electronic cockpit displays.[1]
Specifications
Edit
Powerplant: One Ivchenko AI-25TL turbofan engine
Top speed: 750 km/h
Range: 1,100 km
Ceiling: 11,000 m
Crew: 2
Empty weight: 3,455 kg
Length: 12.13 m
Height: 4.77 m
Wingspan: 9.46 m
Armament: Two hardpoints capable of carrying 284 kg of ordnance.
References
Edit
↑

World Aircraft Information Files Aviation Partwork. Midsummer Books Ltd. File 3 Sheet 1 (World Military Aircraft:Aero L-39 Albatros - Wings for the WarPac)
Ad blocker interference detected!
Wikia is a free-to-use site that makes money from advertising. We have a modified experience for viewers using ad blockers

Wikia is not accessible if you've made further modifications. Remove the custom ad blocker rule(s) and the page will load as expected.