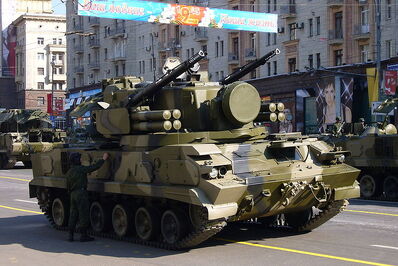 The
9K22 Tunguska M
(Russian: Тунгуска M-1) is a self-propelled anti-aircraft system, that is used by Russia and other countries it was exported to. It is commonly known as the ZSU-30-2. It was developed in the year 1970 by the
KBP Instrument Design Bureau
in Tula for the Soviet Armed Forces. The system entered service in the year 1986 and it is still in service with the successor states of the Soviet Union.
The system is equipped with two different weapons, one of them are the 9M311 guided missiles (NATO codename: SA-19 Grison) with a range of 8 km and the other one are two 2A38M 30 mm autocannons for aircraft incoming at low altitudes. The role of the system is to defend airspace against flying objects at low to medium altitudes. It is being complemented by systems like the SA-11 Gadfly.
Ad blocker interference detected!
Wikia is a free-to-use site that makes money from advertising. We have a modified experience for viewers using ad blockers

Wikia is not accessible if you've made further modifications. Remove the custom ad blocker rule(s) and the page will load as expected.